Daring Greatly: How the Courage to be Vulnerable Transforms the Way We Live, Love, Parent, and Lead
(Book Club Discussion)
Join us for the next installment of the three-part summer book club series. We will discuss the book Daring Greatly: How the Courage to Be Vulnerable Transforms the Way We Live, Love, Parent, and Lead by Brené Brown.
About the Book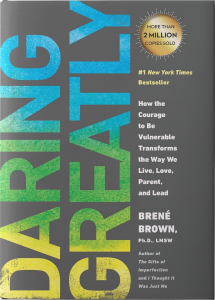 From thought leader Brené Brown, a transformative new vision for the way we lead, love, work, parent, and educate that teaches us the power of vulnerability.
Every day we experience the uncertainty, risks, and emotional exposure that define what it means to be vulnerable or to dare greatly. Based on twelve years of pioneering research, Brené Brown PhD, MSW, dispels the cultural myth that vulnerability is weakness and argues that it is, in truth, our most accurate measure of courage.

Brown explains how vulnerability is both the core of difficult emotions like fear, grief, and disappointment, and the birthplace of love, belonging, joy, empathy, innovation, and creativity. She writes: "When we shut ourselves off from vulnerability, we distance ourselves from the experiences that bring purpose and meaning to our lives."

Note: Reading the book in advance is encouraged, but it's not required. For an overview on the topic, watch TED Talk The Power of Vulnerability.